Despite being the coldest day ever, I had a great time today at the Ardingly Antique Fair
I went with a chartered bus put together by the Kensington and Chelsea Womens Club, which took about an hour and a half from Kensington.  The beauty is that all purchases could be put in the luggage storage area under the bus.
I bought a small English table with a marble top and it was heavy!  I made the man I bought it from carry it to the bus 🙂 and then took a cab from the drop off point to home.
Other finds include this very small sterling silver perfume funnel that I plan to put on a chain (on the left), and (on the right) a silver mesh coin purse that is so tiny, that I think I will put it on a chain too.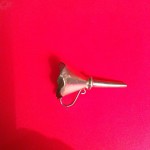 Kathy has a better version of this coin purse that I have always liked, so I was amazed to find this one.  And the perfume funnel?  just liked it and it was not expensive at all.  I look for weird stuff (that no one else necessarily appreciates), so I have to do my antiquing alone, and at my own pace.  I was just leaving the first big indoor building when others from the group were done for the day and heading back to the bus!
I got a few salt cellars to replace the ones lost in the move from Paris to CT, too.
Overall, a good day if I don't end up losing my toes to frost-bite!